I am a student from Universitas Diponegoro, a university recognized for its outstanding performance in the UI GreenMetric, securing the second position for campus sustainability according to UI GreenMetric. My participation in NSLSM 2023 is driven by a strong desire to learn about the practical steps students can take to contribute to creating a sustainable campus and expanding my professional network. During the first day of NSLSM 2023, I had the opportunity to immerse myself in various local cultures in Indonesia, mainly through the unique philosophies behind the traditional clothing worn by my friends. This experience was fascinating and enlightening, deepening my understanding and fostering pride in my Indonesian heritage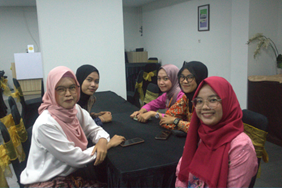 The atmosphere at dinner on the first day was very warm and precious because I made friends from various regions of Indonesia.
On the second day, the agenda was seminar and FGD. We were presented with engaging presentations by knowledgeable speakers in their respective fields. The topics covered were related to the circular economy. Among the many activities in NSLSM 2023, the Focus Group Discussion (FGD) was the most exhilarating and challenging. My team, known as Group 1, was tasked with exploring the topic of "Setting and Infrastructure," which closely relates to my undergraduate program in Urban and Regional Planning (PWK). Through the FGD, I improved my ability to communicate ideas and engage in valuable exchanges with fellow participants. This discussion gave me insights into implementing green infrastructure in various Indonesian campuses. However, it was mentally and physically demanding as we aimed to generate innovative and immediately applicable ideas. We delved into identifying potential issues and exploring funding sources, all intricately linked to the circular economy concept.

FGD situation at GOR Bale Santika
The second day of NSLSM 2023 was captivating, with one standout moment being the FGD session. As the FGD concluded, a sense of mild panic set in as we had a tight deadline to finalize our presentation and concept. Yet, during this moment of uncertainty, I learned a profound lesson - the power of optimism and the invaluable role of mentorship. Our mentor, Teh Fadiah, emerged as a guiding light, offering unwavering support and encouragement. Under her guidance, we met the stringent deadline and delivered a presentation that exceeded our expectations. It demonstrated the incredible results that can be achieved when a team unites with determination and embraces a positive outlook. Surprisingly, amidst the chaos and pressure, our team experienced a remarkable strengthening of our bonds. We leaned on each other more than ever before, deepening our connections within the group. In the face of adversity, we met our assignment's deadline and nurtured and solidified our relationships within the team. This transformed the FGD session into an unforgettable and profoundly enriching experience during NSLSM 2023. On the third day, which marked both an environmental action and the final day of our gathering, bittersweet anticipation enveloped us as we prepared to bid farewell and return to our respective campuses.

Environmental actions in the Leuwi Padjajaran Ekoriparian area.
During this day, we actively engaged in environmental initiatives, including tree planting and fish release at Leuwi Padjajaran, along with a campus tour at UNPAD. These activities heightened our ecological awareness and provided a deeper connection to the host university and its surroundings.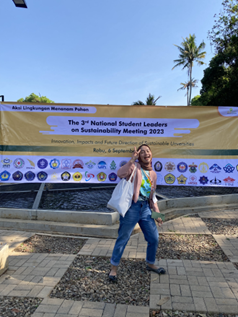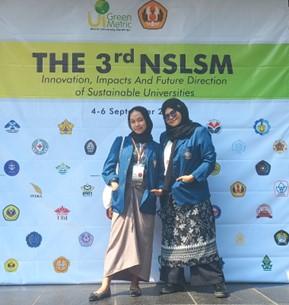 Tyas (right) and I (left) are happy to represent Undip as delegates.
As a delegate, I plan to apply the knowledge and experiences I gained during NSLSM 2023 in my future endeavors. Although our time together was brief, this event held immense significance and value for me in 2023, leaving a lasting impression that will resonate throughout my academic journey.
Written by: Hasna Asti Fatihah – Universitas Diponegoro