The 2 days Caspian Regional Workshop on UI GreenMetric World University Rankings was completed on April 25
th
2018. It wast hosted by Atyrau State University, Kazakhstan. The workshop was held on 24-25 April, aimed to enhance the participation of Caspian universities in UI GreenMetric, towards a sustainable 360 degrees approach in terms of infrastructures, waste, water, energy and climate change, transportation and education. It was attended by 6 universities and 1 environment consultant, they are Atyrau State University, Nazarbayev University, People's Friendship University of Rusia (RUDN), Kazakh National Agrarian University (KazNAU), Kazakh National University, NARXOZ University, dan TOLI Global Solutions Limited.
In the first day, the opening was welcomed speech by rector Atyrau State University, Prof. Taltenov Abzal, and Dr. Nyoman Suwartha, Vice Chair of UI GreenMetric. The first session, Dr. Nyoman Suwartha described the current condition of UI GreenMetric and the future challenges. The second presentation was presented by Dr. Baiduri Widanarko who discussed about GreenMetric UI indicators and data delivery, including introduction of login and data input in the UI GreenMetric 2018 online questionnaire. The third presentation was delivered by Ms. Assel Bizhanova, LEED GA (Specialist of Green Campus office and Sustainable Development, Nazarbayev University), who introduced best practice around Nazarbayev University's efforts to realize Green Campus through various activities such as renewable energy procurement, waste management and other UI GreenMetric indicators. Nazarbayev also confirmed to join and fill out the questionnaire UI GreenMetric 2018.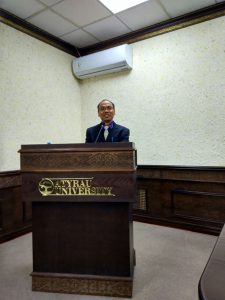 The second session, some universities presented their experiences in sustainability chaired by Dr. Dinara Tuyakova (Director of Development Department, Atyrau State University) with theme "Implementation of Sustainability Policies in the Universities". There were 6 speakers from Prof. Margarita Redina (Dean of the Faculty of Ecology, People's Friendship University of Rusia) via Skype, Dr. Erzhan Kentbayev (Head of the Department of Forest Resources and Hunting, Kazakh National Agrarian University), Dr. Dinara Tuyakova (Development Department Director, Atyrau State University), Marina Skiba (Advisor to the Rector, NARXOZ University), Ms. Ulzhan Shilibekova (Director of Business Incubator, Atyrau State University) and Mr. Tony Mason (Branch Manager, TOLI Global Solutions Limited). The second session was concluded with open discussion and wrap up (closing remarks) from Dr. Dinara Tuyakova representing Rector of Atyrau State University, and Dr. Nyoman Suwartha, representing the UI GreenMetric.
After the second session it was continued with campus tour, among others visiting the (front) campus which will be developed access road / pedestrian and green space connecting from dormitory to campus, visiting hall / gymnasium, gazebo model with solar panel roof for charging area, visiting lecturer research and student handicraft exhibition, visiting research laboratory, and Eco-campus room allocated for student activities and sustainability campus program.