On August 25, 2023, the UI GreenMetric Instagram account hosted an Instagram Live Discussion to celebrate International Youth Day. Yovita Yiwananda, a Social Media and Communication Specialist at UI GreenMetric, moderated the event. The discussion was graced by esteemed speakers, including Maurice Efroza, the CEO and Founder of GP-Tech SC-UI, Maike Lorenz, an Environment Councilor at the German Embassy in Indonesia, and Jasmine Savitri, a climate activist and a representative from Universitas Muhammadiyah Yogyakarta.
In addition to the previously discussed theme, this live discussion focused on how the young generation can do their role as pioneers by using social media and other platforms to create a broader movement for climate change issues.
Maike Lorentz, the Environment Councilor at the German Embassy in Indonesia, has identified a significant issue affecting the younger generation - the absence of climate and environmental law in their educational program. Additionally, only a few students place importance on climate concerns. It is crucial to reassess the curriculum and ensure that environmental and climate actions are given the necessary attention they deserve.
According to Maurice Efroza, we as a young generation need to collaborate with the stakeholders, government, community, and a multitude of institutions to increase awareness towards sustainability and climate change.
"The main concern that we face on climate change issues in the young generation is we don't have a platform to contribute, vocalize, and implement our innovation toward climate change. In most cases, the youth have ideas and innovation to do something correlated with sustainability or climate change. Still, they don't know how to do it, or they don't have a platform to share their ideas toward what matters", said Jasmine.
UI GreenMetric supports the younger generation by providing students and universities with the opportunity to participate in sustainability efforts. Some of our programs, the Online Course on Sustainability 2023, allow students to collaborate with 31 universities in total across the globe. Additionally, the National Student Leader on Sustainability Meeting 2023, hosted by Universitas Padjadjaran in September, is another chance for students to get involved in sustainability efforts.
As members of the younger generation living in the digital age, we have the power to utilize social media and other technological platforms to create a larger movement in promoting and sharing information regarding climate action. Using social media, we can raise awareness and reach a wider audience, ultimately coming together to positively impact what is important to us.
Working together, we have the power to build a better tomorrow by embracing sustainable practices in our everyday lives. Let's take the first step towards positive change today!
Streaming Live on Instagram:
https://www.instagram.com/reel/CwXsO8MMsae/?igshid=MzRlODBiNWFlZA==
Documentation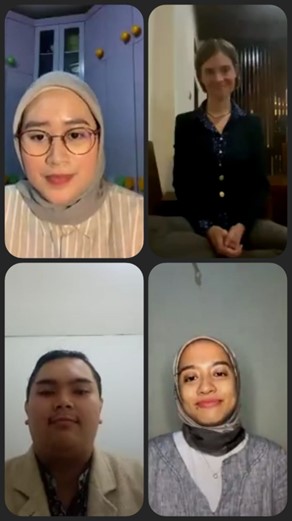 Written by: Nadhira Rahmani Z. & Yovita Yiwananda Yamin S.Hum., M.Si